In Memory of Ken Southworth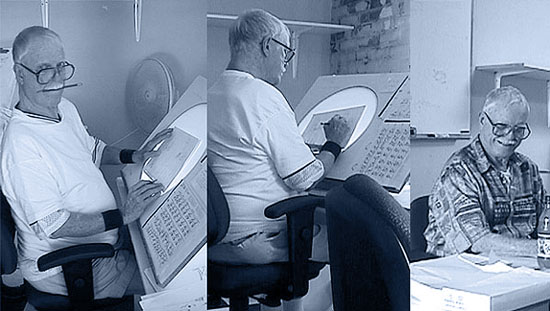 This year marked the tenth anniversary of Inkwell Images. These ten years have passed quickly, and in that time, so much has happened, good and bad. While December 5th marked the 106th birthday of Walt Disney, it was the same day that my dear associate, Ken Southworth, passed away of a stroke. Because Ken was such a upbeat man, I would like to focus on all the good things during my decade with him.
I had always known who Ken Southworth was, having seen his name in the credits on theatrical cartoons and on television. Naturally, it was an honor to be associated with him in his winter years. My association with Ken began on The Adventures From The Book Of Virtues in 1996. The following year we joined forces to produce the popular three volume Home Instruction course, The Ken Southworth Animation Series, consisting of instructional VHS tapes and workbooks. The origin of this series was based on Ken's desire to pass on his 50 years of experience to the next generation. Since talent for the animation field can come from virtually anywhere in the world, he felt the possibility that someone in an isolated area without the means to attend one of the major animation schools might benefit from a few basic lessons. As a result we fashioned this series of courses designed to spark that raw talent.
The Ken Southworth Animation Series was featured in several video catalogs including Schlesinger's Educational Library Video, The Whole Toon Catalog, Amazon.com, Cartoon Supplies, Lightfoot Ltd., and of course, our web site. As a result, we have linked to many people worldwide who have told us how much they have enjoyed our product. The Whole Toon Catalog gave us the greatest compliment saying, "It's fun to watch even if you never pick up a pencil." This was supported by some of the anecdotes Ken included in the programs as he was working on camera. One of my favorites was about his experience as an assistant to Milt Kahl on Alice In Wonderland. Ken took great pride in stating that he had done considerable work on the Croquet Sequence, saying, "Chances are, if you see a drawing with Alice holding a flamingo, I did it!"
I understood from the start what Ken wanted to do in making an instructional program. While others he spoke with wasted his time for two years, it was apparent they did not know how to bring such a thing to fruition. I was most happy to make that happen, and was equally pleased to see the modest success we saw. If the interest had not shifted so quickly to computer animation, I am sure we would have continued selling these instructional programs. What we can be proud of is our accomplishment with limited resources that resulted in a PBS quality program with a quick return on the initial cash outlay.
During his active years, Ken taught Animation at the Hanna-Barbera Evening School, The American Animation Institute (Cartoonists Local 839), and since his retirement ten years ago, continued to speak at colleges and universities in the U.S. and Canada including VanArts. See additional credits listed on the IMDb.
Ken was a most unique, generous, and inspiring man. I will always remember Ken's note in his Christmas card our first year of operation. He said, "In all my years, you are the best!" Considering Ken's longtime associations with the major figures in the business, this is a tremendously generous compliment, and a great deal for me to live up to. I will always try to remember that remark, using it as a standard of behavior, to always strive to be the best and do the right thing. That is something that is so sorely lacking today. But for the decade that we were associated, I can truly say that my life was enriched that much more for having known Ken.
Ray Pointer