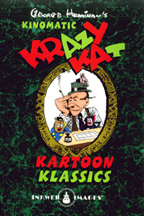 Approx. 45 min.
$21.95 DVD
SILVER REMI AWARD
Short Subject Documentaries

Houston International
Film and Video Festival
2005
"...this specific DVD release, its appeal is undeniable to die hard classic animation fans, and those viewers who are less so will still find this program entertaining as well as informational."

Del Walker, DVDToons
"An important documentary covering the early animated cartoon career of this beloved comic strip character...traces Herriman's career and controversies. A great package - well done!"

Jerry Beck, Animation Historian
K

razy Kat was one of the great comic strips in history. It was also one of the first comic strip characters to appear in an animated series starting in 1916, and continued to be seen in theaters for 24 years. But most of all, Krazy Kat is important because its creator was a pioneer in a profession considered inaccessible for others of his kind-because George Herriman was the first Black American cartoonist.

The name Krazy Kat continues to live through recent reprints, which allow new generations to discover and cherish this icon of American culture. Yet the original animated versions are the most rare, and until recently were only footnotes in books on Animation History. This documentary showcase focuses on the career of George Herriman, and features some of the last surviving examples of these rare animated classics of early cinema.

Includes:
Krazy Kat Goes A-Wooing (1916)
The Bugologist (1916)
Krazy Kat-Invalid (1916)
Krazy Kat And Ignatz Mouse In A Tail That Is Knot (1916)
The Great Cheese Robbery (1920)
The Best Mouse Loses (1920)
The Awful Spook (1920)
and more

Includes an exclusive interview with Gene Deitch discussing his work on the 1960s Krazy Kat television series.