Description
Just say, "Follow the Bouncing Ball" and everyone is ready to join in on a heartwarming community sing. Originally conceived in 1924, Max Fleischer's Ko-Ko Song Car-Tunes were the first audience participation films, offering an improvement over the static hand-painted glass slide sing-a-longs of the nickelodeon days. But most importantly, several of them were produced with synchronized soundtracks, making them the first animated films with sound.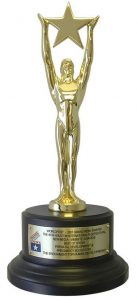 PLATINUM AWARD
Short Subject Documentary
Houston International
Film and Video Festival
2003
This program represents a previously lost chapter of motion picture history which clearly establishes the "Bouncing Ball" Sing-Along as the grandfather of The Rocky Horror Picture Show and today's music videos.
Includes:
Has Anybody Here Seen Kelly? (1926)
When The Midnight Choo-Choo Leaves For Alabam' (1926)
Margie (1926)
Comin' Thro The Rye (1925)
Tramp-Tramp-Tramp The Boys Are Marching (1926)
My Old Kentucky Home (1926)